See on Scoop.it – Tracking Transmedia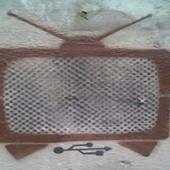 Is the Internet bad for television? Maybe not: Evidence suggests that the web makes people watch more television, and get more engaged with TV advertising….
One unanticipated side effect of this greater availability, according to the seventh annual Deloitte State of the Media Democracy survey, released earlier this year, is that the availability of more ways to watch content–like laptops, tablets and other mobile devices–may be growing the amount of television watched overall, instead of simply replacing one form with another.
"Our conclusion is, the individuals using tablets and smartphones tend to be much heavier media consumers across the board, and in particular tend to be heavier users of digital applications, such as streaming and downloading, even if they're not using their tablet to do that," Deloitte vice chairman and U.S. Media and Entertainment sector leader Gerald Belson told Wired.
A recent TiVo survey of almost 10,000 of the service's subscribers also reached a similar conclusion: There was "no significant difference" in traditional television consumption between those who subscribed to Netflix and those who didn't. Indeed, those who did subscribe, the survey discovered, may even be more likely to watch more premium cable dramas than those who didn't….'

See on www.wired.com