Web TV, audiences and content producers of the XXI century: challenges and opportunities for creating a new media experience
See on Scoop.it – Tracking Transmedia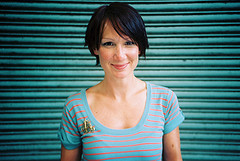 How to tell engaging TV stories for the XXI century´s audiences? Dr. Aleks Krotoski, presenter of the BBC 2 series Virtual Revolution (2010), explains why the convergence between the online and the offline has changed the way people consume media and how content creators and web developers can work together to transform the "linear-story-telling" television into a holistic, interconnected and interpretative experience.
Carolina Roncarolo (TV Observatory, School of Communication, Universidad Austral)
How has the convergence of social and technological networks changed the way people consume TV content?
The convergence between the online and the offline is a really interesting and new development. Primarily, because so many people are using companion screens, whether they are using a mobile phone, or a laptop, a desktop or even an I pad or another type of tablet. They are engaging with television content in a way that tends to be distractive, so they are half looking at it or they are engaged in a different way, by actually following Twitter streams, or getting involved in the direction of a storyline if it is a drama. For example, in the UK there is a program called The million pound drop, and that is very much online environment which is a quiz show that has a very strong Internet element, but is broadcasted on TV.
I think, primarily, the key part of this is the evolution of the audience member, and his or her belief in their role in the participation of television content. No longer are they necessarily be happy to simply consume in a very linear way when somebody else is managing the direction or how the content is going forward, how the content is laid out for consumption. They actually want to engage, want to participate, want to be involved in the storyline, the news idem…They want to feel that they are actually participating and taking part in the story. Part of this has to do with this phenomenon that I like to call "the cult of me", in which the individual is the centre of his or her network. The individual is the hero of his or her journey, and this is facilitated because of the participatory elements of television and the participatory elements of the online, and they are now the centre of the story, and, therefore, they want to feel they are part of the story.
What are the new possibilities that multi-platform television presents for audiences and producers?…
See on oteve.wordpress.com