Brilliant. Beck 'Produces' A Genius Innovation That Appeals To The User-Generated Generation – Forbes
See on Scoop.it – Tracking Transmedia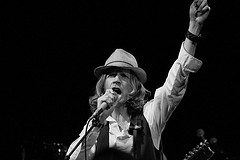 Beck has an invitation for you (Photo credit: Matt Biddulph)
There are times when I see an idea that is so good, so fresh, so amazing that I:
1. Become immediately proud to be human.
2. Stand up to let the energy of the idea fill my body.
3. Tell everyone I know about it.
From the promo site:
"In the wake of Modern Guilt and The Information, Beck's latest album comes in an almost-forgotten form—twenty songs existing only as individual pieces of sheet music, never before released or recorded."
Sheet music. Nothing but sheet music.
Think about the implications of that idea in this modern age of digital information, content creation, sharing, and social communities….
An End-around On The Pirating Business.
Here's the most brilliant part of the idea, and the part that appeals to the marketer in me. You can't just download this album, you have to buy it. It's not digital, it's paper. Beck has successfully found a loophole in our digital addictions. A loophole that will find musicians and non-musicians alike wanting to purchase such a novelty, either to play the music privately, publicly, or simply to follow along while listening to the world bring the music to life…..
See on www.forbes.com