Long Detailed Review: Huntsman: every trick in the fairytale book | fxguide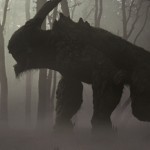 How face replacements, shattering soldiers, CG trolls and magic metallic mirrors were made for Snow White and the Huntsman. fxinsider members can also watch an exclusive interview with Double Negative, Rhythm & Hues, Pixomondo, Lola, The Mill, Hydraulx, Baseblack, BlueBolt and Nvizage, plus overall visual effects supervisor Cedric Nicolas-Troyan.
Working together with co-visual effects supervisor Phil Brennan, Nicolas-Troyan co-ordinated a wide range of shot-types – 1300 in all – for director Rupert Sanders' first feature film. "I think besides spaceships and exploding New York, we've done everything that's in the visual effects book!," he jokes. "We've done creatures, transformations, animals and plants, buildings, fire and so much stuff. Cloth simulations, liquid metal, dynamics, face replacements. You name it – it's somewhere in the movie."…..
See on www.fxguide.com